The IOs are the 260 archetypes, basic possibilities to be you and everything around you, in its purest existential condition. Learning them, becoming aware of their programming based on the attributes that condition them to be perfect, is what you need to be in tune with this new era governed by Chronocracy.


The IO has by nomenclature, a letter with a number. The letters are the 20 seals, the numbers are the 13 tones. 20 × 13 = 260. Your IO, is the one on the day of your birth.

For what?

The SEAL establishes the factorization motive, seals (encrypting) the information given by the time to factorize the energy in a specific way to be body and physical environment, energy alive.
Action
Power
Essence
Cell

A
nurture
birth
being
input

H

, F

communicate
spirit
breath
input

K

, C

dream
abundance
intuition
input

O
target
flowering
awareness
input

T
survive
life force
instinct
store

B
equalize
death
opportunity
store

G
know
accomplishment
healing
store

L
embellish
elegance
art
store

P
purify
universal water
flow
process

U

, V, W

love
heart
loyalty
process

D
play
magic
illusion
process

I
influence
free will
wisdom
process

M
explore
space
wakefulness
output

R
enchant
timelessness
receptivity
output

X

, Y

create
vision
mind
output

E
question
intelligence
fearlessness
output

J

, Q

evolve
navigation
synchronicity
matrix

N
reflect
endlessness
order
matrix

S
catalyze
self-generation
energy
matrix

Z
enlighten
universal fire
life
matrix
And how?
The TONE, gives the action to the Seal, toning the energetic factorization of each atom of its physical composition.
| | | | | | |
| --- | --- | --- | --- | --- | --- |
| | | Action | Power | Essence | Cell |
| | 1 | I unify | attracting | purpose | time |
| | 2 | I polarize | stabilizing | challenge | life |
| | 3 | I activate | bonding | service | senses |
| | 4 | I define | measuring | form | mind |
| | 5 | I empower | commanding | radiance | time |
| | 6 | I organize | balancing | equality | life |
| | 7 | I channel | inspiring | attunement | senses |
| | 8 | I harmonize | modeling | integrity | mind |
| | 9 | I pulse | realizing | intention | time |
| | 10 | I perfect | producing | manifestation | life |
| | 11 | I dissolve | releasing | liberation | senses |
| | 12 | I dedicate | universalizing | cooperation | mind |
| | 13 | I endure | transcending | presence | time |
Learning the attributes of each letter and number will make it easier for you to memorize the IO mandate. At the same time, it is very fun to deconstruct the universe, in verses, words, and get to the letters by discovering the tone, by the phonetic tonality of the letter. Thus, you will be amazed at the synchronic order. The IOs are creating what each one believes to be, regardless of the language cultivated in their minds.
What is my Chronoday?
The CHRONODAY is the day whose IO factorized your energy when you were born.
You can receive gifts, and celebrate!
This happens every 260 days, because that is the duration of the CHRONOCYCLE, converting the loom's time units, the IOs, into the length of days. 260 IOs has the loom, 260 days has the chronocycle. This cycle is very important, as much as or more than the 365-day year of the trip around the Sun. 260 days is the gestation period of the human being in the maternal matrix. After birth, every 260 days the IO that factorized the energy of birth, the destine IO, is repeated. Therefore, CHRONODAY is an energetic rebirth of your being (physical, mental, spiritual, psychic, etc.).
That day you will always be, just as you were energetically in your birth. Becoming aware of this, when it is your chronoday, will help you a lot to reaffirm your true «IO». In such a way in each chronocycle, you will improve your natural talent that is established according to the mandate of your destine IO, in order to be the best version of yourself.
For the Chronocracy your chronoday is so important, that the key of your CIC has its nomenclature, it identifies you as a chronocrat.
My Energy?
The energy factorization of the mental sphere, makes of itself an atom. By the principle of ubiquity, there is only one atom that is cubicated throughout your body, at each present moment (the smallest portion of linear time, that scientists have managed to break down). Imagine a 3D design grid, made up of countless cubes. If currently the hadron is the smallest known portion of matter, then the grid cube is even smaller than the hadron. Your body is designed on that 3D grid, therefore it has a variable and unrepeatable amount of cubes, according to your physical design of each present moment.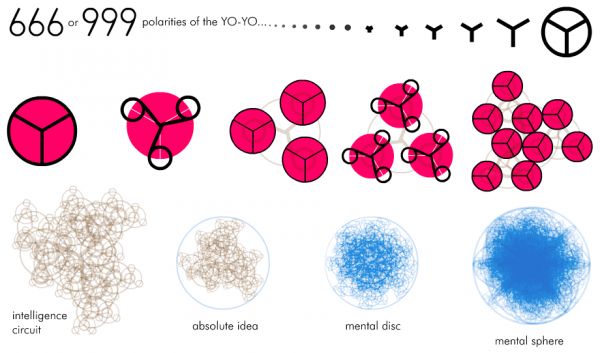 The mental sphere believes is in one cube at a time. Before believing to be in the next cube, the sphere is energized. When energized, gets in itself a spark of energy, and that is the «primary atom». To achieve that, it polarizes all the ideas it stores. The mental sphere contains the data of creation (cosmic, universal, etc... of absolutely everything). We could say that it is the database with awareness of being alive. Based on the hologram of the mental vision that corresponds to a present, the mental sphere travels throughout your body, energizing it, applying a 13:20 frequency mathematical factorization. When the factorization is completed, been in all the cubes of your body. That is the «cubication» of the primary atom.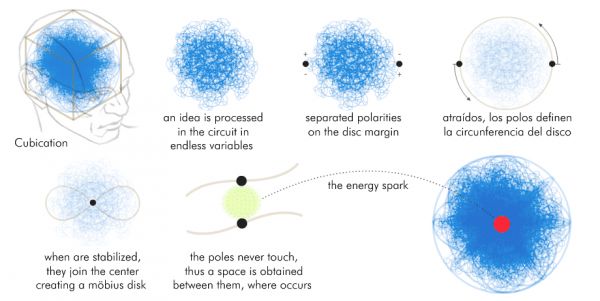 My Time?
Returning to the principle of ubiquity, commented on in the previous answer. It is impossible for two human beings to exist at the same time, because each is a permutation of the root body common to all. When the permutation n.º 1282 occurs, it is impossible for n.º 2769431752, or any other, to occur because they happen one after the other. So, you ask yourself: How is it possible that I feel like everything happens at the same time?
Remembering what happened or will happen in the permutations before and after yours. The first permutation is always zero when the hologram of the whole universe is formed according to its own existential need. Let's look inside one of his atoms, there's a human being believing he exists somewhere in the world. So, when zero permutation occurs, the system will know what will happen in all the others.
Imagine, you are in a meeting with friends. What everyone lives, is experienced when each one's own permutation occurs (when aware of being alive) and what each one observes from the others is a memory of what they lived or will live from the present moment common to all permutations. Remember what I told you in Law of the Time?: ...at every present moment I stop life to factorize energy equaling it to the art of each permutation.
So, you own your time, because when you exist everything else is an illusion of the senses created in yourself as if it were real (people, things, world, etc.) according to what happened or will happen to all that else in your here and now of each present moment. If you learn as you are programmed you will understand that you are time believing to be energy, and with the energy that you think to be you are recreating the work of art that you are living. That is why the formula of your energetic factorization will always equal the art of what was created within and around you, to your benefit.
My Love?
There is a human being who is totally compatible with you. Together you two could evolve as a complete, indivisible and inseparable being, as much as to dissolve reality and create the intimate and private paradise where only the two of you would exist. Chronocracy connects you with that being. The search is very easy.

Imagine, you are inside a cube. Its sides, inside and outside, are mirrors. You are at its center reflecting yourself to the endless in order to exercise the order of the matrix of your existence. The reflections around you, in front, at your sides and behind, are the most important of yourself, they reflect the powers of your fifth force. Your ANTIPODAL power reflects what you are not. Your ANALOGOUS power reflects who you are. Your GUIDE power reflects what you should be. Your HIDDEN power reflects what will not be revealed, and that only you can know. Unifying those powers in yourself you obtain your fifth force, with which you are unstoppable, but it only happens if you previously assimilated the existential condition of your IO.
So, they are the fourth IOs of your Oracle and you are the fifth, the oracular destine. Am I going from here, there, or better over there? Your oracle determines the course of the animation of your life, although in the healthy illusion of free will everyone will believe that they decide for themselves. If you comply with the programming of your CIC, your oracle will work good and your reflections will favor you no matter what.
Your LOVE, if you are in phase Hetero: is your ANTIPODE (you love the reflection of the other, that which you are not and never will be); and if you are in phase Homo: it is your ANALOG (you love your reflection in the other, that which you are and always will be). The love phases are transitory although one of them could last all your life (it depends on the beliefs that you have assimilated so far). If your desired result does not appear, dear being wait. Be calm, do not be disappointed and help me by spreading chronocracy.com among your contacts so that we can find your LOVE.
WARNING: If you look your LOVE in something other than a human being alive and receptive to your desire, is the symptom that you are sick. Urgently, we must correct your focus or life will turn against you until it kills you. Because we love you, and cannot tolerate losing you. The absence of your LOVE, or loving or being loved for what should not be, causes realities that cause your psyche to take terrible ways. If you lose your LOVE, or cannot find it, you will die and be reborn until you two meet and together dissolve «samsara», repetition of erratic lives due to bad love.
My Mood?
For my LOVE, my MOOD
G13
247
X
You have to find your LOVE, and for that there is something called MOOD (frame of mind) which will need to be in you. Bad MOOD and the world seems to go against you. Good MOOD and everything favors you, in this way there are more possibilities of obtaining success in your search and in anything you want. So, how to achieve your good MOOD? It's a matter of WAVE.
X
The WAVE of time, is a cycle of 13 IOs. If you interact with people from your WAVE you will get your best friends, with whom anything you undertake will endure because each one has a complementary task to fulfill, to that of the twelve others. They do it, whether they know it or not. So if you are cool in your WAVE, by default you achieve your good MOOD.
Study your WAVE and contact people who are its IOs. Read their mandates and consider all their interactions, you will know them as those who will never fail you. Stimulate in them the tasks for which they were created. If they comply with themselves, they will favor you.
My Mission?
Its success will depend on whether you do what you must do. There are 4 ways to proceed, they are actions of the HARMONIC (chromatic cycle of the loom of time). So, if a IO is your destine, the color that corresponds to its seal establishes the procedure of your Ray, factorizes your energy in a unique way, so that you can achieve your mission.
TRANSFORMATION
RED starts,
WHITE refines,
BLUE transforms,
YELLOW matures,
Any MISSION you undertake. Look for people who are the complementary colors to yours, to successfully undertake any mission.
What is my Key?
They make noise, they pollute, they scream, they annoy, I can't stand them
This happens because most of them live out of tune, they look for the correct dial but cannot find it, and the solution is in the KEY of the CIC (chronocratic identity credential). As an example, I explain it to you with the Leeloo Lekatariba key.
Her CIC's key has the values that are applied in the energy factorization formula to make her energy perfectly dampened with the energy of the day. This makes up her experience, the world projected in her environment as if it were real, it is a symbiosis and by its nature feeds on her energy. Leeloo did not know that, and possibly neither do you. So, Leeloo does not need to sustain a struggle with that energy to take control of the environment. For Leeloo Lekatariba, the world happens without affecting her, but for others, the world and its creatures is a terrible suffering.
The formula, T [E] = A, equalizes her energy with her environment. Time (the IO) factorizes the Energy (from the shape to be recreated according to its memory encrypted in its timeline, from the database of the zero root body of our current creation) equaling the Art (of the Ray that corresponds to today's IO to recreate the Earth as if it happened outside).
O11

[666]=

R2

But how? The red ray of photographic art is used by O11 (destine IO of Leeloo Lekatariba) for the energetic factorization of her physical form and environment (whose IO of energization today is R2 using the ray pink of musical art). In such a way, time equates the word sensations with the energy that Leeloo Lekatariba has inside, remaking and sustaining in each present moment a perfect cushioning system (of energies) between she and all things.
Can I be Chrononaut?
If you have read the answers, you are initiated to become a true time traveler. A chrononaut is a navigator of the chronocratic order. Being fully aware of its programming, you will understand the weaving of the loom of time, and therefore, you will precede any event of the order. Creation ceases to be in automatic, because the chrononaut appropriates time by recreating its here and now. He is where and when he wants, living according to his will and desire.
Click the video and hear their IOs.
The vast majority are alive with not knowing all this. How many people do you know, who know and can tell you their IO? And the mandate? If you learn the encrypted programming in your CIC, and inform yourself about the IO of every day (minimum for 260 consecutive days) your life is automatically readjusted to the chronocratic order, in turn you evolve adopting the existential condition of your IO: "I am time, believing myself to be energy... I know how I am created and I live conscious of my programming"
What does the symbol?